How Long do you Stay in One Place?:
The National Association of Realtors track many aspects of home buying, selling, and living including the average tenure of a family in a home, how long a family lives in a home. The following is a chart tracking those numbers: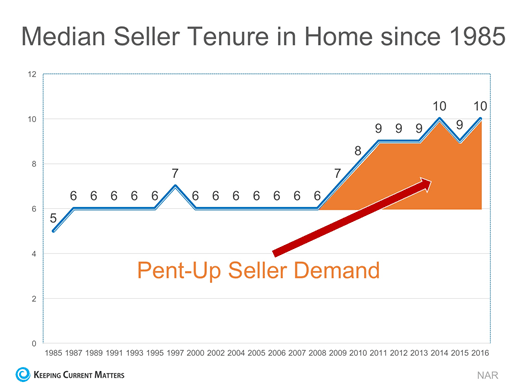 From 1985-2008, the median seller tenure was around 6 years, but, as you can see, there was a spike starting in 2009 and continuing now.
Why is this happening? When the housing crisis occured, home owners were afraid to make a move because their equity was dropping substantially (now 93.9% of people with a mortgage have positive equity according to corelogic.com).
What now? Well, now, young people are going to catch up and start buying homes that are better for families, their wages are up so they're in a better financial place, and the need for sellers can be fulfilled by the older generations with large and empty homes.